Scrawls, scribbles, and signatures are more than stains on a page. Like snapshots, they capture moments, preserving the pieces of thought that form the grand puzzle of human experience. They reveal the breadth and depth of personality and emotion. They are truly History In Ink.
"Men don't change," President Harry S. Truman observed. "The only thing new in the world is the history you don't know." The letters, photographs, and documents of the famous and influential people of the past are great teachers. The words and the handwriting connect us with yesteryear and bring history to life.
Presidents Franklin D. Roosevelt and John F. Kennedy, among others, collected historical letters and documents. Queen Victoria was an avid autograph collector, and years later her great-grandson, King George VI, requested Truman's signature for his daughter, now Queen Elizabeth II. Today there are thousands of autograph collectors worldwide.
We want to share with you the thrill of owning a genuine piece of history. So please browse through our site.
Here you will find History In Ink—beautifully framed and unframed letters, documents, and signed photographs as well as signed books and other autograph items. You will also find much more: Our listings include biographical information and often explain the historical context of the autograph item itself. We also offer information on caring for historical autographs and links to several interesting and helpful web sites.
---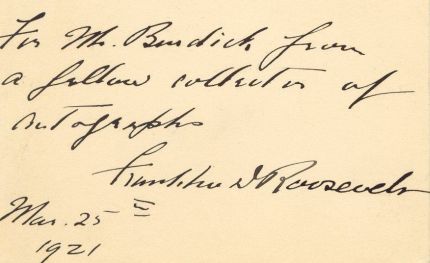 From one collector to another . . .
Franklin D. Roosevelt
---
History In Ink® offers a wide variety of historical autograph material, both framed and unframed, for sale in a broad range of prices. We give you personal service to help you find just the right piece to help build your collection or give the perfect gift to a history buff. If we do not have it in stock, we are always glad to help you find it.
We specialize in the autographs of United States presidents and first ladies, Supreme Court justices, European royalty, and World War II military. We also have items from many other notable persons in American and world history. Those include statesmen and world leaders; presidential cabinet officers; members of Congress; military figures from the Revolutionary War, Civil War, World War I, and other conflicts; artists; authors; inventors; scientists; aviators and astronauts; and personalities from law, business, politics, entertainment, and occasionally sports.
We take care to make our framed displays some of the best—wonderful conversation pieces for the home or office. They include one or more photographs or portraits and usually include one or more engraved plates identifying the person and, if appropriate, the event. Most of our unframed items can also be framed.
We also offer several payment options to make it as easy as possible for you to build your collection or give the perfect gift. We can ship both framed and unframed items virtually anywhere in the world.
We always enjoy talking about autographs, so please email us with your questions, comments, and suggestions. Give us your wish list, and sign up for our email list so that we can tell you about new items as we offer them.
Most of all, enjoy our site, breathe in the history, and come back often.